Bandaranaike International Airport
Discover Duty Free pick-up points at the Bandaranaike International Airport in Sri Lanka. If you still do not know about the Reserve & Collect service, we´re giving you the option to place your order online and pick up your tax free items at the Pick up Points at the Colombo airport. This is a great option to save time and money on your purchases at the Duty Free stores in Sri Lanka.
Duty Free puts has two Pick up Points at the Colombo airport, and the pick-up points are located inside the Duty Free stores of the Bandaranaike International Airport. Therefore, travelers should go to Sri Lanka Duty Free boutiques, located at the departures and arrivals terminals to pay and pick up their online order. To finalize the purchase, you only have to go to the aforementioned collection points, pay for your order and collect the items, which will be ready up to two hours before the departure of your flight.
Place your online order right now and make sure that you take home your favorite tax free products by shopping with the Duty Free Reserve & Collect service. Buying tax free alcohol or tobacco in Sri Lanka is easy thanks to our shops at the airport. Remember that if you forget to include any of the products in our catalog in your online shopping cart, you can always make additional purchases when you visit our physical stores. Place your order online today with Duty Free Sri Lanka to save time and money!
---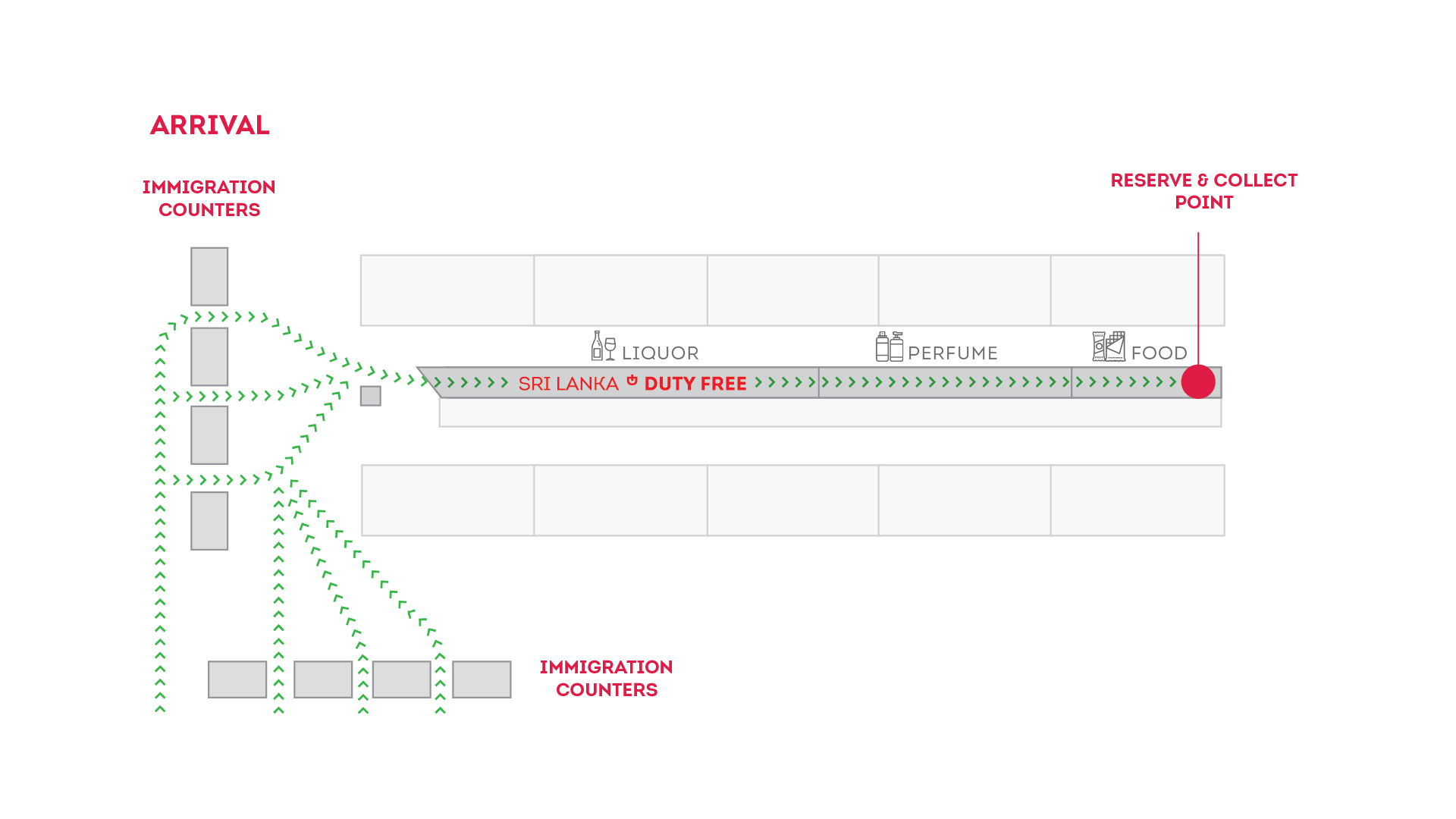 Duty Free Store,Arrival
---
Your goods will be ready for pick up 2 hours before the departure of the flight.
You can also do additional shopping while in store.
Our store is located in Arrivals right after the Immigration counters. Please check the shop name board at the entrance fascia. Reserve & Collect pick-up point is located at the back of the Arrivals store in the Cash Register (Till) area. Our staff would be more than happy to show you the pick-up point if required.
---
Any questions? Find your answers in: How does the service work? and FAQs.